Main content starts here, tab to start navigating
WHAT TERRITORIES ARE AVAILABLE?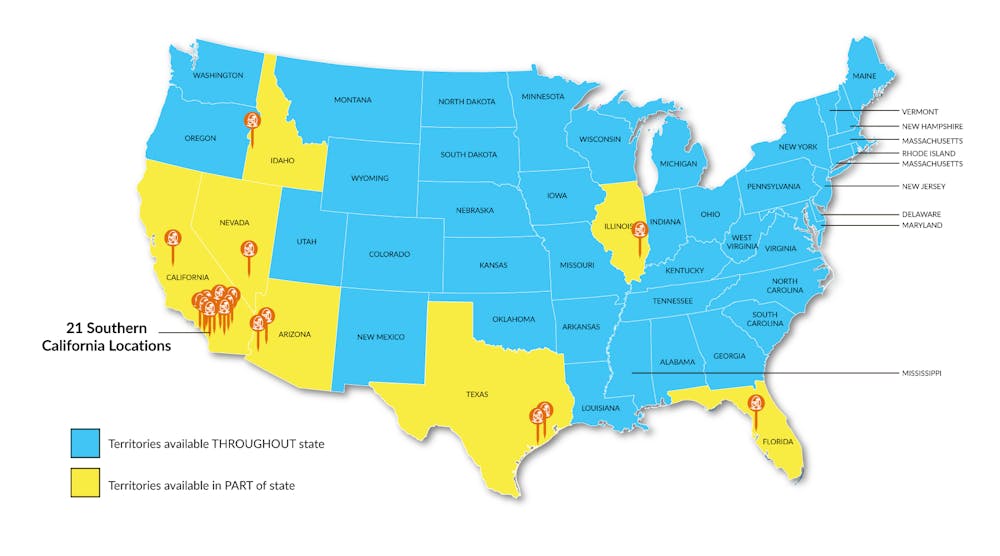 Available Areas in Partially Developed (yellow) States:
CALIFORNIA
Southern Orange County
Portions of the Inland Empire (San Bernardino County, Riverside County)
Central California Inland (north of Bakersfield)
Central California Coastal
Northern California (coastal and inland)

ARIZONA
Parts of Phoenix metro area (Maricopa County)
Tucson
Prescott Valley
Flagstaff
NEVADA
Reno
IDAHO
Northern Idaho
TEXAS
Portions of Houston
All other metro areas

ILLINOIS
All metro areas
FLORIDA
Miami
Ft Lauderdale
Jacksonville
Cape Coral/Ft Myers
Lakeland/Winter Haven
Deltona/Daytona Beach
Pensacola
Tallahassee
Development Territory FAQ's
Q: How big are the development territories?
A: The development territory size depends on the number of stores committed and the demographic characteristics of the area. Generally, the territories are based on approximately 1 store per 200,000 people, but each territory is determined based on its own unique demographics and characteristics.
Q: What is the minimum store count for a development territory?
A: Three.
Q: What is the timeline for opening stores?
A: You have 18 months to open the first store and 1 year for each store following. If you open your first store early, you bank the extra time as your second store isn't due until 1 year following the first store's original deadline.
If you're interested in franchising with Broken Yolk Cafe and meet the qualification criteria, we'd like to hear from you.
Why Broken Yolk? How Do We Support You? What Do Our Franchisees Say? Available Territories Real Estate & Site Criteria Do I Qualify? How Do I Start?
The information on this website is not an offer to sell, or a solicitation of an offer to buy a Broken Yolk Cafe®franchise. An offer to buy a Broken Yolk Cafe®franchise is made by a franchise disclosure document only.
We offer and sell franchises to qualified prospective franchisees only in certain states. To the extent required under applicable state law, we will not offer or sell a franchise unless registered or exempt in the state where the prospective buyer resides or where the franchise will be located. This information is not being directed to any resident of the following states: California, Hawaii, Illinois, Indiana, Maryland, Minnesota, New York, North Dakota, Rhode Island, South Dakota, Virginia, Washington, Wisconsin, Florida, Michigan, Utah or any other state, province, country or jurisdiction where we are not currently registered to offer or sell, unless otherwise qualified or exempt.
This advertisement is not an offering in the state of New York. An offering can only be made by a prospectus filed first with the Department of Law of the state of New York. Such filing does not constitute approval by the Department of Law.